Why becoming PET-A-HOOD's Member?


PET-A-HOOD's members can enjoy different member-only benefits, including access to a directory of over 3,000 pet services, a birthday offer, membership-exclusive vouchers, participation in seasonal campaigns, and pet experience booking.
Sign up as PET-A-HOOD's free member for the membership offer now!

Our partners:
---
Memebership Levels & Benefits
Moving up a membership level is part of the fun. Once you've accumulated the required number of reviews and my favourites, you'll be upgraded to the next membership level, where more membership benefits await!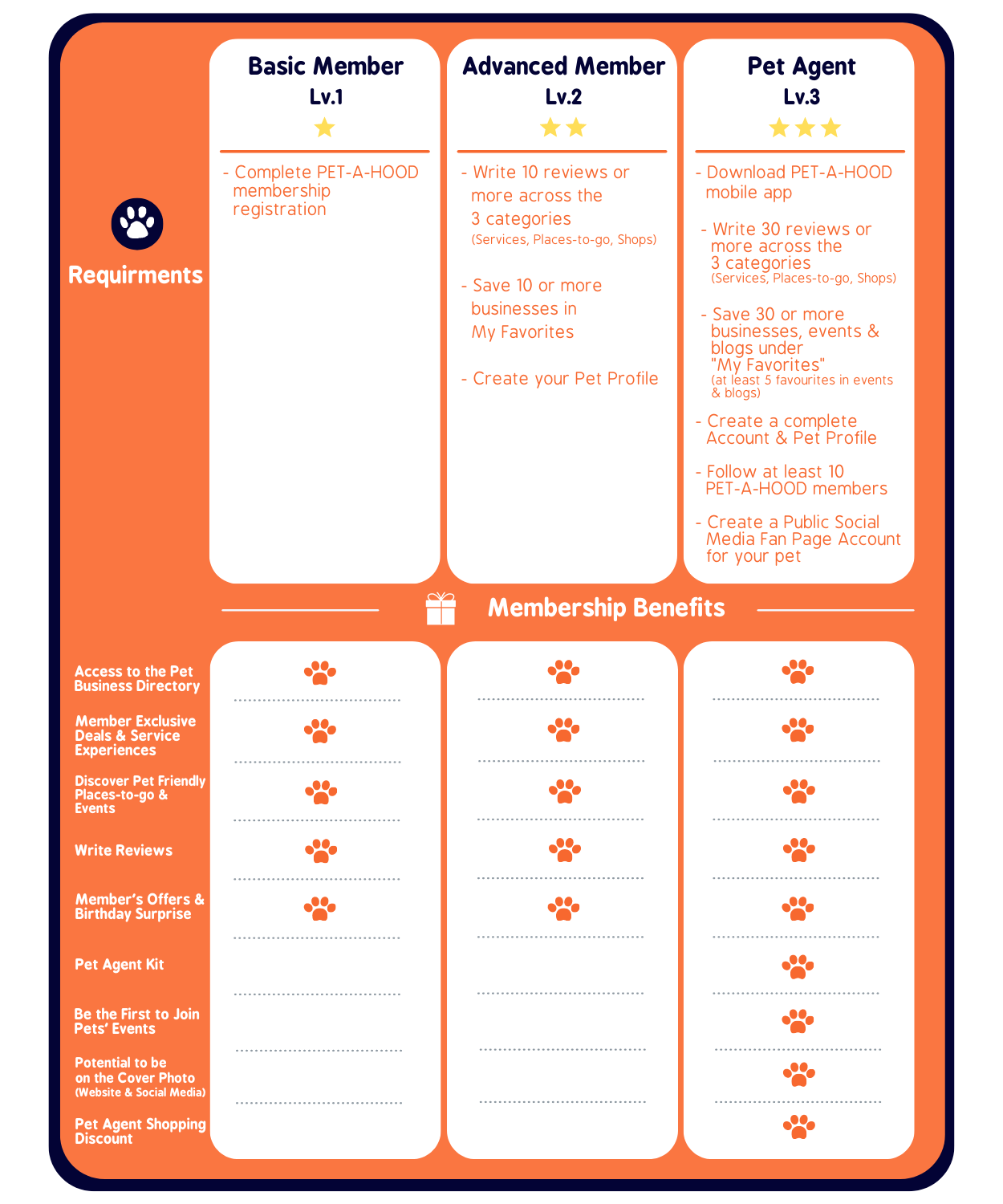 PET-A-HOOD membership divided into 3 levels: Basic Member, Advanced Member and Pet Agent. Complete the required steps to move up to the next level and start enjoying the additional membership benefits.
---
Access to over 3,000 pet service directory
On the online search page, non PET-A-HOOD members can only see the pet businesses on the first pages. Register as a PET-A-HOOD member to browse all the areas for pets without limits, and look for the most suitable place!
---
Members' Offers
Birthday Offers

pat a pet HK$50 discount on birthday 

tamarart

15% off on FURRY KIDS "PREMIUM" pet photography service

The MOON.K HK$50 discount on birthday 

Pet Services

CAT SEASONS HOTEL staycation offer
MY DOG FITS
Enjoy Daycare / Daycare training service Early Drop-off and Late Picked service for free

Ohhh! Studio HK$100 off for purchase Ohhh! Studio Let's Party photography package
OneDegree save 25% on Pawfect Care

OneDegree Exclusive 25% discount on Turtle, Tortoise & Bird Insurance

Pawradise 10% off reserved the entire pawty venue
PRIVATE i PETS 30% off grooming service and free pet swimming offer
SPCA free access to "A-Z" Dog/Cat Care Takeaway

Pet Food/Supplies

an ordinary project up to 15% off special offer on pet's hair gem
AQUA PROTECH pet care 15% off offer

beige + bright 
12% off on any Lambwolf walk set (1 x collar/harness + 1 x leash) 

Healthy Little Paws free delivery offer
Invisible Company 5% off discount and free gift on the first online order

Kanine
10% OFF discount 

MONGSTER 5% off discount offer

Ohhellobruno 20% off discount offer

pat a pet 5% OFF discount at pat a pet website
Pet Pet Cuisine pet meal 5% off discount
PROVET
10% OFF on ProVet Products
The MOON.K free delivery offer
Vetopia newly registered Vetopia member can enjoy HK$100 discount offer

Dining/Staycation

Little Bao free redemption of one ice-cream bao upon a dine-in spending of HK$250
Vie-won-won free one set of PET ALL DAY BREAKFAST upon a dine-in spending of HK$200

ZipZip
 One Strawberry Soda for free ( Value at: HK$52) and one free PET-A-HOOD gift upon a dine-in spending of HK$250

Others

Wardrobista 

Dress Rental Service 10% off

JYPOHK

PET-A-HOOD members can enjoy12% off on all Steaming Services & Retail Items. A free pets' snack package will also served.
PET-A-HOOD members can enjoy lots of exclusive offers. Please don't hesitate to click "HERE" to sign up and get special membership discount. Members can visit "My Vouchers" to browse your vouchers!
PET-A-HOOD Emoji Sticker available for download
Members can exclusively download a series of WhatsApp stickers from PET-A-HOOD!
---
Participate in seasonal campaigns
PET-A-HOOD will host a variety of events on a regular basis, such as pet photography competitions, fairs, and so on.
---
Pet experience booking
Other event organizers will work with PET-A-HOOD. PET-A-HOOD members can book pet experience services through PET-A-HOOD, giving pet owners a one-stop shop for all their pet needs. All of the steps can be completed on a single website!
---
How to view "My Vouchers"?
PET-A-HOOD will occasionally cooperate with different shops to offer limited time deals and promotions! Click on [Profile], then go to [My Vouchers].
Website Version: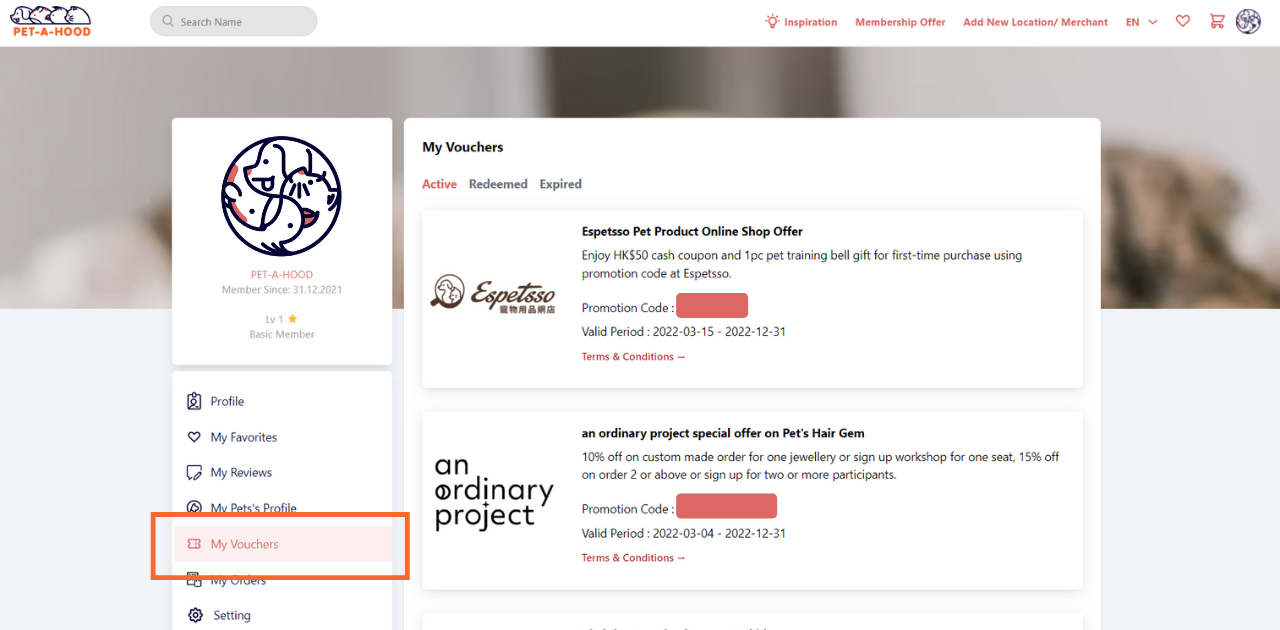 Mobile APP Version: