Pets owners care about the health of their lovely pets a lot, but pets are troubled with skin allergy and respiratory diseases. The torments suffered by pets are indeed related to the home cleaning. Creature Comforts registered vet Dr. Kaylen reminds pets owners that allergy is the most common pets' diseases in Hong Kong, 4 allergens from home needed to beware of and also the means to help.
Creature Comforts registered vet Dr. Kaylen
4 Common Home Traps that Affect Pets' Health


Mold
It is very common to see mold in Hong Kong, it generally appears in home environment, the damp weather helps them grow. Mold may give rise to pets' allergies, something similar to eczema. With poor immunity system of the pets, the influence coverage and symptoms may be larger. They may face red and swollen skin, peeling skin and fur.
Dust mite, microscopic dust and dust
Another common allergen is dust mite, which contributes to inching to pets. Dust mites are ubiquitous, so it is hard to deal with. It usually relies on medical treatment. Dust mites and dust have great chance to cause upper respiratory symptoms and skin problems. Upper respiratory symptoms include sneezing, runny nose, coughing, watery eyes and sore eyes, causing pets to uncontrollably scratch, lick or bite themselves. It is common for them to have wounded skin or injured eyes, or even bleeding. Sometimes, pet owners will misunderstand the above as eye inflammation or other reasons of getting injured. Hence, they will miss the chance for treatment! Dust and microscopic dust will elevate the problem of dust mites, worsening the allergic condition.
Dander and Hair
Dander and Hair at home are the hidden crisis, some pets will be allergic to human dander or other animals' dander. Countless cats will eat their hairs, lead to diarrhea or Crohn's disease, causing constipation and frequent vomit. Some dogs will eat their owners' hairs or hairball and cause vomit. There are numerous dusts, dander and dust mite, or even some parasites will get infected via dander, causing other allergic symptoms.
Hand Sanitizer/Formaldehyde
Animals have better olfactory sensation than human, when human cannot resist on the smell of formaldehyde, not to mention animals. Formaldehyde can stimulate pets' upper respiratory, contributing to dyspnea. Formaldehyde not only comes from home renovation; indeed, it may also come from hand sanitizer which we will always use after the outbreak of covid. When they breathe in hand sanitizer via respiratory system or after skin contact, the smell of hand sanitizer will convert into formaldehyde. Besides, the chemical from numerous cleaning supplies will adversely affect pets.
Hard to Uproot Allergic Problem. Pets Owner Need to Cooperate with Vets to Improve the Allergic Source
According to Dr. Kaylen, it is common to see skin problem in pets in Hong Kong. Many pet owners find her for related problems nearly every day, with different variety of pets in all seasons. The symptoms of skin problem are all similar. It is difficult to find the root cause of the problem. "The two most common causes of pets allergy are food and environment" Dr. Kaylen emphasized. The environmental factors are mainly depending on the efforts of the pet owners, "no matter how the vets help your pets, pets owners need to deal with the root problem, which is the environment."
So, when the pets are discovered to have skin problems due to environmental factors, vets will advise the pet owners to keep their living place clean and help the pets eradicate the insects regularly. Dr. Kaylen faced an untypical case before, when the pet owner brought the dog to her, the dog was full of dust, the owner honestly admitted not using the vacuum cleaner, "another case is that the pet owner bought a new bed mattress, after that, the skin of the dog got worse. Later, it was discovered the problem was caused by the dust mite, the dog recovered after dealing with the dust mite.
If pets are found to have upper respiratory symptoms, sometimes vets will suggest using air purifier to see whether it can solve the problems. Dr. Kaylen has done home consultation for pets for two years; She once had a patient with 3 long-furred cats at home. As soon as she enters the house, she can feel the air is not circulating. After that, the client has bought a strong air purifier, thus has greatly improved cats' problems of runny nose and watery eye. "Several pet owners reflected that air purifier not only improve the allergic problems of the pets, but also improve owners' own health, especially to the long-furred cat owners, their own allergic problems have been improved."
Two Tricks for Human and Pets – Frequently Use Vacuum Cleaner and Air Purifier
Not only do cleaning the environment be beneficial to pets, but also to the pet owners. When the pets have skin problems, it will be easier to cause dander, which may enhance allergic problem or eczema to the owners. Keeping better ventilation is the key to alleviate the allergic symptoms. Indeed, many vets and nurses are allergic to pets' hairs, so they will put on masks when working, many vet clinics also have air purifier.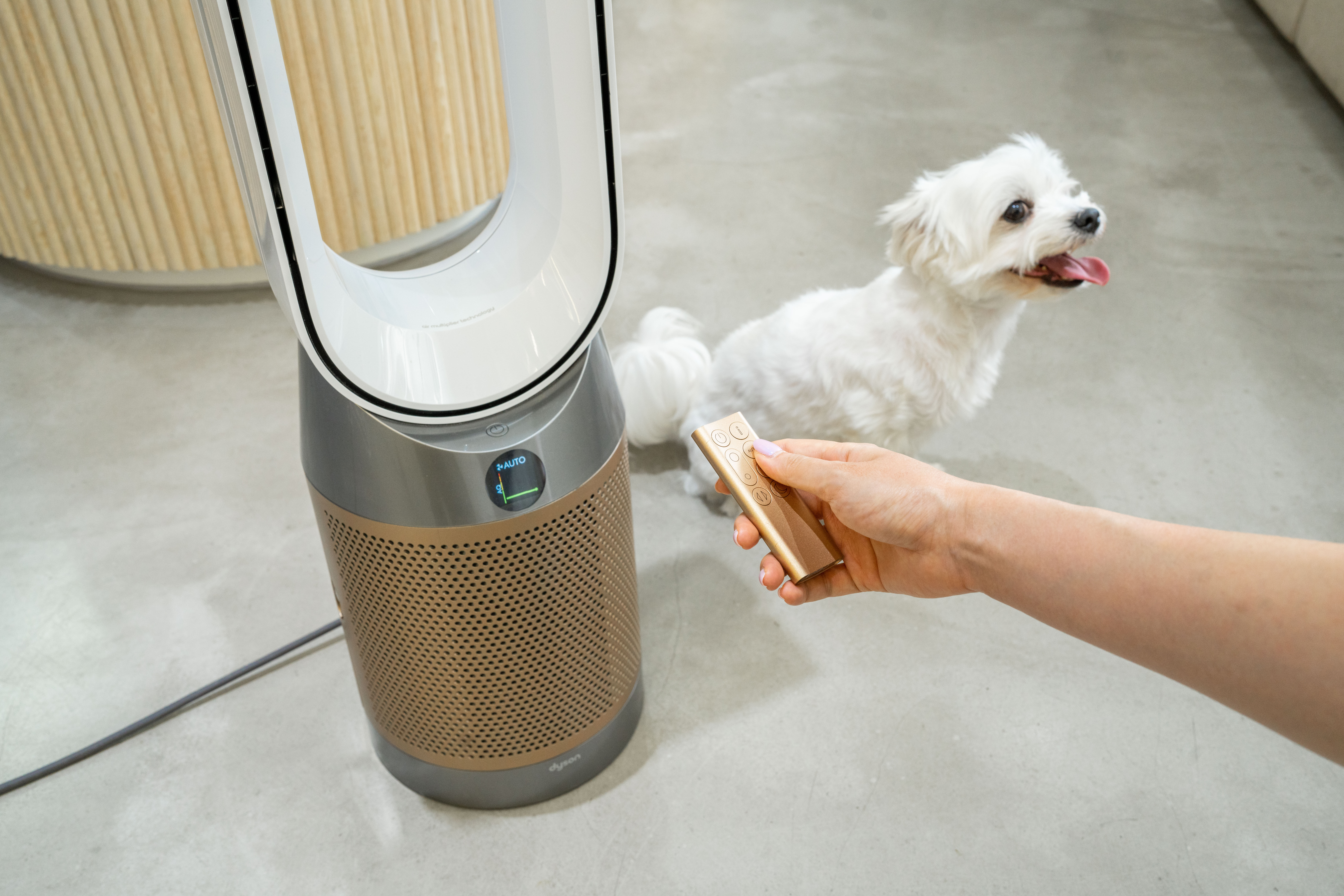 Many vet clinics are also equipped with air purifiers to purify air pollutants
An ounce of prevention is better than a pound of cure, it would be better to keep the home clean with the latest technology of vacuum cleaner and air purifier, rather than bringing the pets to visit the vets when they have skin problems. It will be beneficial to both pets and their owners.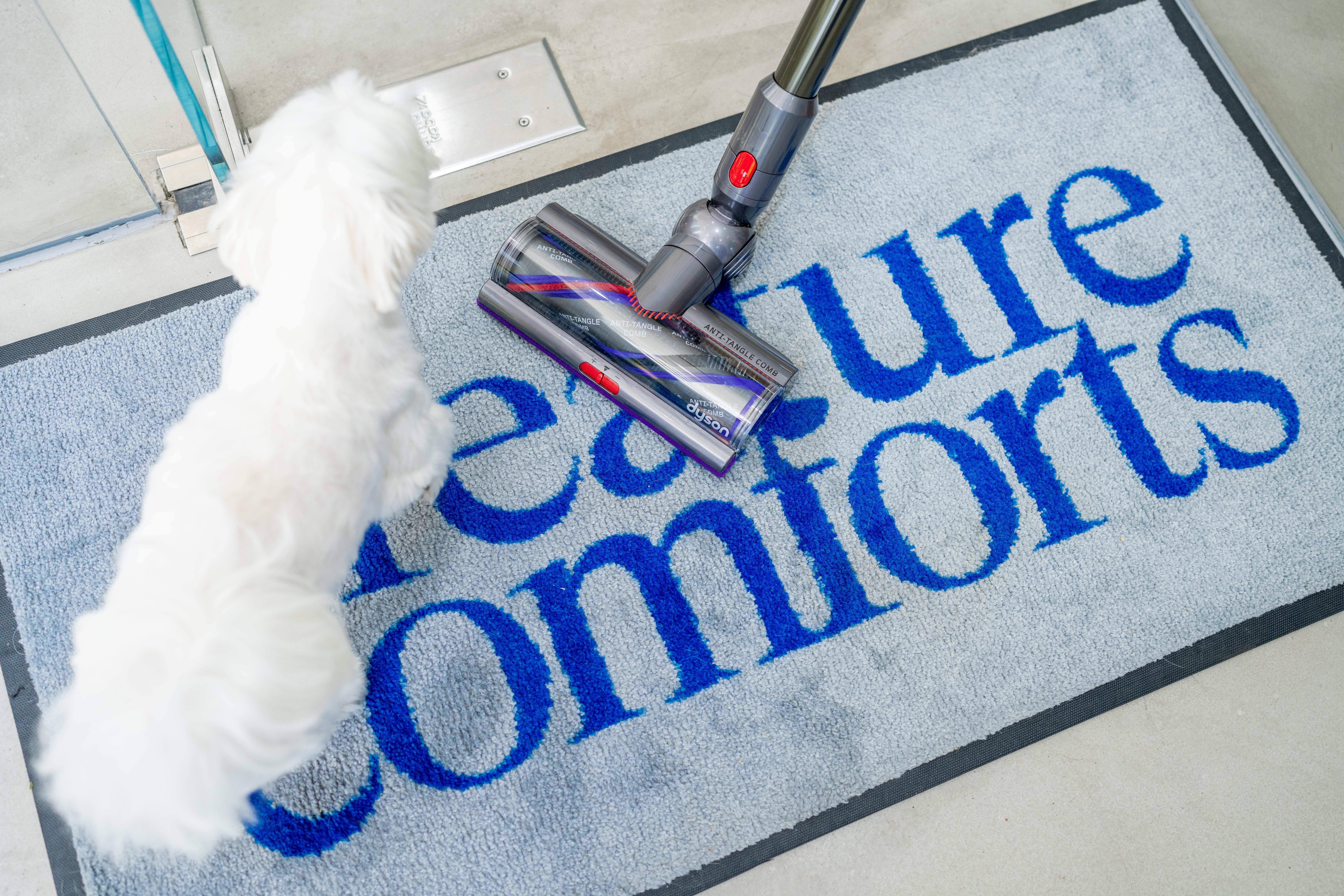 Dyson V15 DetectTM Cordless Vacuum Cleaner & Purifier Cool Formaldehyde
Best Option for Pet Owners 
Latest technology from Dyson - Dyson V15 DetectTM  Cordless Vacuum Cleaner & Purifier Cool Formaldehyde can solve the problems of allergens at home, dealing with the 4 home traps.
Dyson V15 Detect TM  Cordless Vaccum Cleaner
Allergens like pet dander and bacteria can bring to the mattress and sofa through pet hairs, contributing to the allergy of the owners and pets. Dyson V15 DetectTM has 230 AW, easily suck up the allergens and dust mites. The V15 DetectTM cleaner head comes with laser detect technology, reveals invisible microscopic dust, is a precisely-angled laser detects the particles you can't normally see – so you don't miss anything and also LED screen shows the size and quantity of particles that are being captured. Giving you scientific proof of a deep clean.
High Torque cleaner head powerfully sucks up dust and hair from all floors. De-tangling comb with 56 polycarbonate teeth prevents tangling around the bristles, so hair is sucked into the bin directly.
5-stage advanced filtration captures 99.99% of microscopic particles up to 0.3 mircons and seal them inside the machine without secondary air pollution.
Dyson V15 DetectTM Cordless Vacuum Cleaner and Dyson V12 Detect SlimTM Cordless Vacuum Cleaner
Dyson Purifier Cool Formaldehyde 
Pet danders & allergens will accumulate at home. Dyson purifiers can filter them out, including 99.95% of ultrafine particles.
Automatically senses & removes pollutants; Captures H1N1, H3N2 and EV71 viruses, bacteria & even destroys formaldehyde.
Senses & captures household odours, removing up to 97% of pet urine odour.
HEPA + carbon filters capture harmful gases & 99.95% of particles as small as 0.1 microns.
The purifier is fully sealed to HEPA H13 standard, preventing pollutants leaking back into the air.
Dyson purifiers have Air Multiplier™ technology, to draw in distant pollutants and project purified air throughout the room.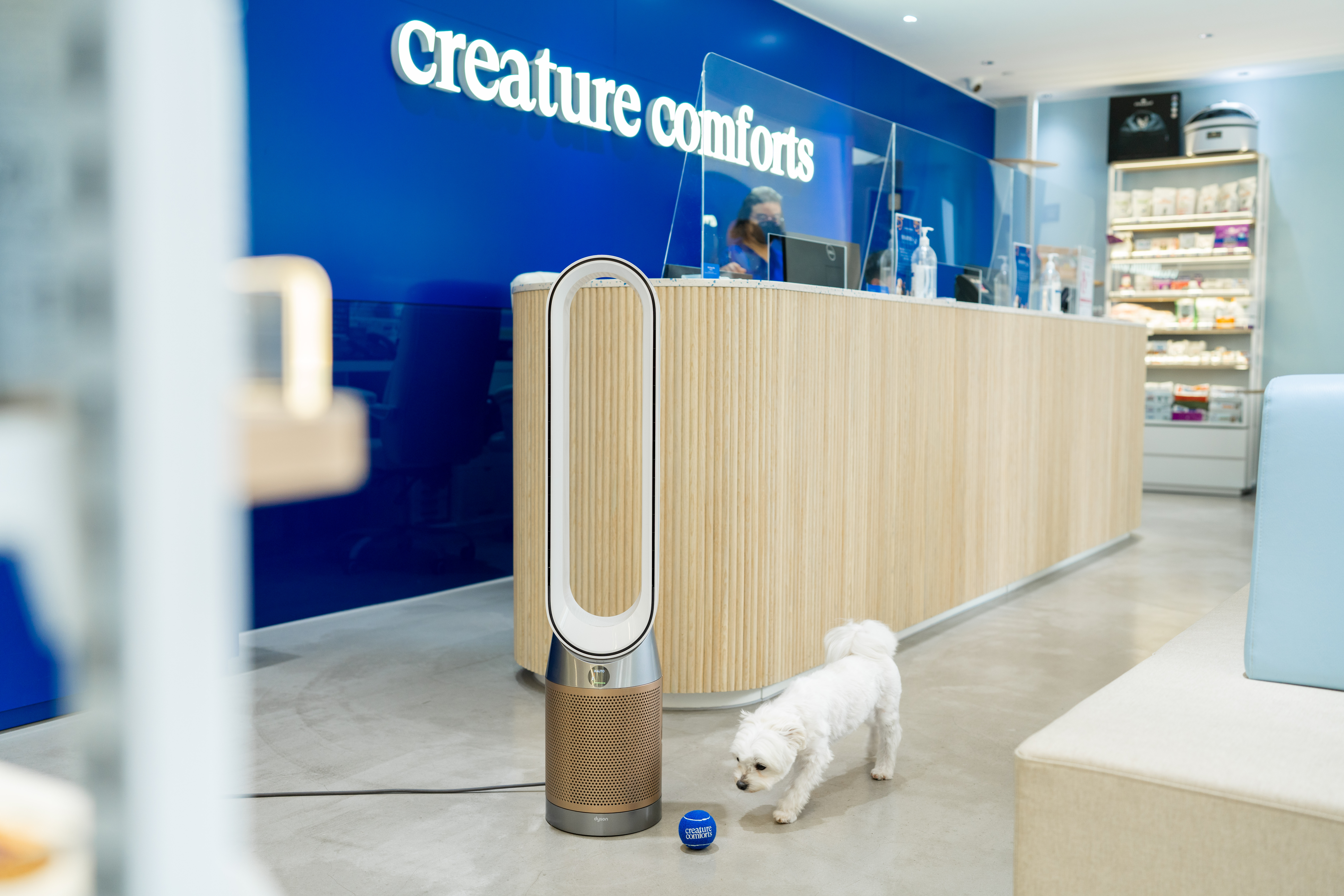 Dyson Purifier Cool Formaldehyde 
The latest technology from Dyson helps you to keep an ideal living environment. Keep your pets away from allergens and virus, and living in a healthy and allergens-free environment!
Special Thanks: Creature Comforts Veterinary Centre Tseung Kwan O
Learn more on Dyson's pet related page: https://petahood.com/en/campaign/dyson
---
About PET-A-HOOD
Our platform is a one-stop destination for the latest and the most comprehensive pet-related information. From helping you discover pet-friendly businesses nearby, to planning fun weekend activities, we are your trusted partner when it comes to curating a healthy and exciting lifestyle for your pet friends and you. We also encourage pet owners to build their Pet's Social Community through Pet-a-hood, by exchanging pet-caring experience, pet-related news, and connecting with other pet lovers in the neighbourhood.